José Luis Merlin and Alexandra Syniakova. Guitar and Flute Duet.
José Luis and Alexandra have been playing together since 2012 in multiple concerts including one in 2014 in Teatro Colon, Buenos Aires.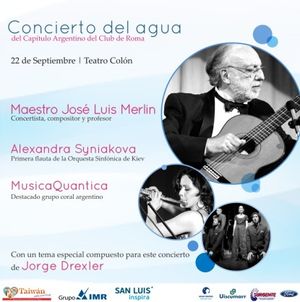 ---
Alexandra Syniakova has been studying flute since 8 years old.
- 1996 - 2000  has been a student of R. Glier Kiev Institute of Music
- 2000 - 2005  studied at Ukrainian National Tchaikovsky Academy of Music, Kiev
- 2006 - 2009   postgraduate studies at 
                           National Tchaikovsky Academy of Music, Kiev,Ukraine

- 2007 - 2014 Gave a great number of different concerts, including duo concerts with José Luis Merlin all over Ukraine.
- 2014              They have also played in a duo in Teatro Colon, Argentina.
- 1997 - 2007 Was a soloist of the Ensemble of Jewish Klezmer music "Nigunim". As part of the ensemble has been performing in Germany, Austria, Hungary, Slovakia,                           Poland, Russia.
Became a laureate at the international contest of performing on wooden instruments (Ukraine);
A laureate of "Golden Hanukia" (Germany)
A laureate of the contest of kleizmer music named by Solomon Mihoels (Russia)
Since 2002 - a soloist at the National Symphonic Orchestra of Ukraine.
As a soloist of the orchestra has been playing in Switzerland, Germany, France, Spain, Italy, Poland, Japan.
 
Apart from performing as a soloist she also works as a  Music teacher.
 
---